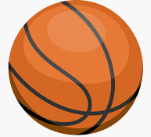 Middle School Boys Basketball
Hannah Peterson
Tuesday, October 22, 2019
The middle school boys basketball season will begin on Thursday October 24th. Practices will be at Waitsburg High School from 3:30 PM to 5:45 PM Thursday and Friday this week. In addition on Thursday there will be a parent meeting after practice at 6:00 PM on Thursday.
Clearance packets are available at the school offices in Preston Hall and Dayton High School. Please complete and submit packets to either school office. In addition to the completed packet participating students need to have a current sports physical on file at the school.
Bus schedule for October 24 & 25.
Transit bus will pick-up Dayton students at 3:15 PM by the gym and transport them to Waitsburg High School by 3:30 PM. On Thursday (10/24) the bus will return students to Dayton after the parent meeting. The bus will depart WHS @ 6:45 PM and arrive at DHS by 7:00 PM.
On Friday the bus will depart Dayton at 3:15 pm and practice will be from 3:30 to 5:30 and the bus will depart WHS at 5:45 PM and return to Dayton by 6:00 PM.