We want to provide you with information about our process for communicating about COVID-19 in Waitsburg schools during the 2021-22 year. Assuring that our students and staff remain healthy and safe is critical to keeping our schools open. Please read full details on our website at
https://www.waitsburgsd.org/news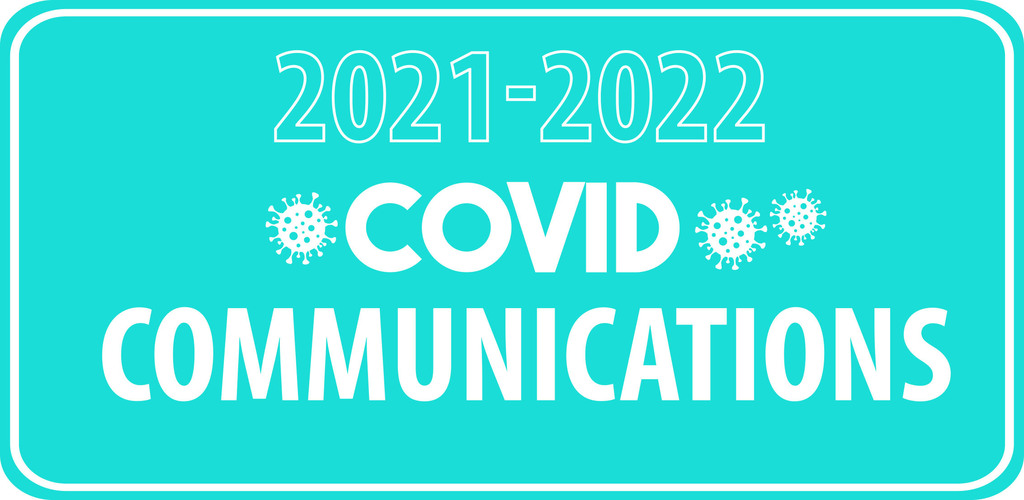 REMINDER: Today is an early release at 12:10 PM for Waitsburg schools. Busses will leave shortly after.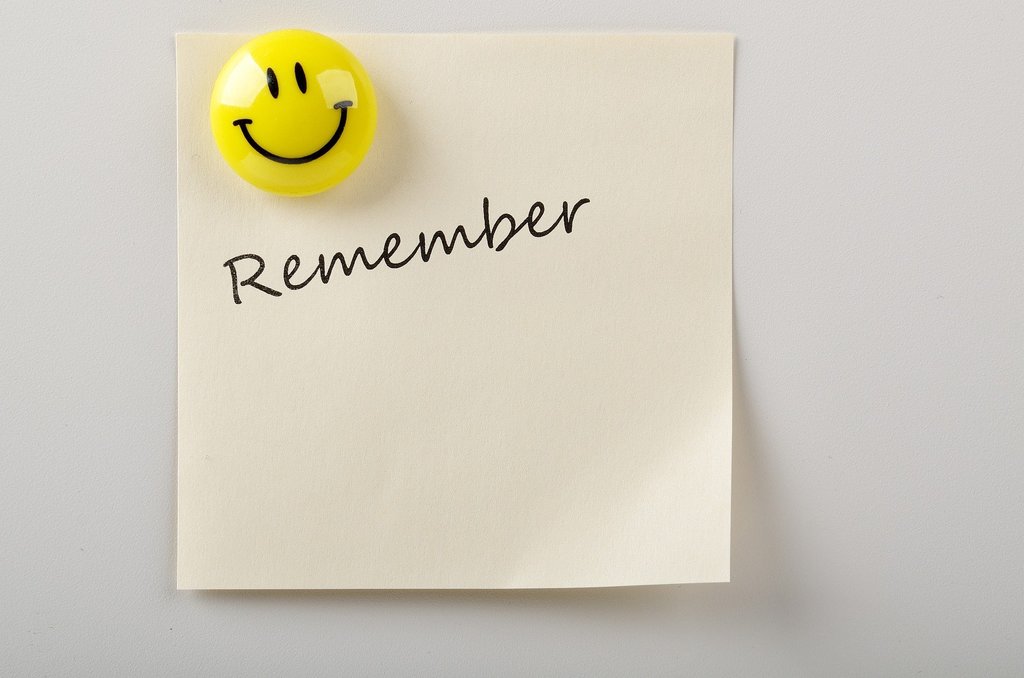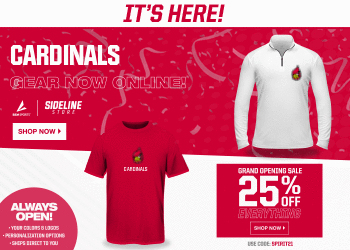 Due to continued high numbers of COVID cases in the county and the Waitsburg community, we have made the decision to cancel the Elementary Open House originally scheduled for September 15th. We apologize for the late notice.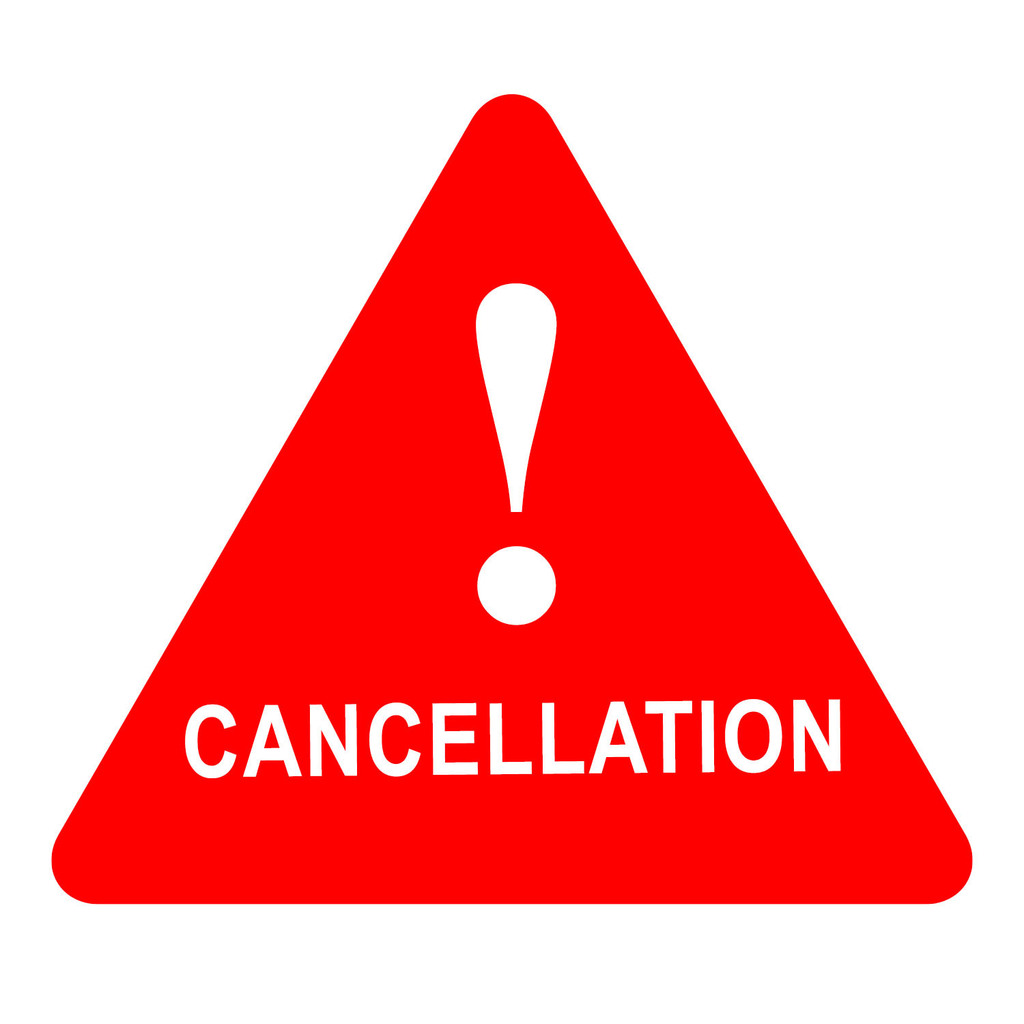 Picture day in Waitsburg is tomorrow, September 15th. The Elementary School Open House also takes place Sept. 15 from 5:00-7:00 PM.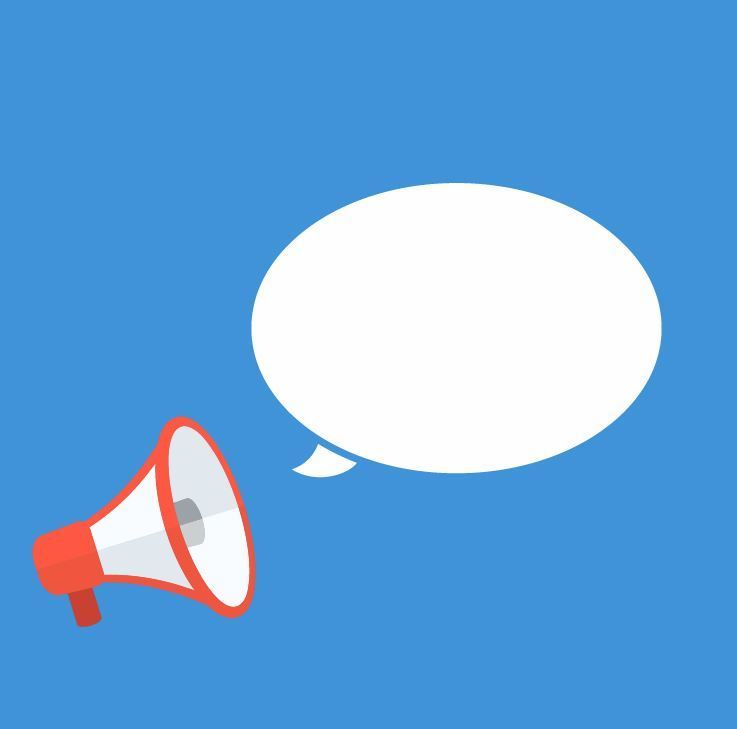 With Dayton still in remote learning this week (9/6 - 9/10) we will resume sports practice for high school and begin practice for middle school fall sports in a manner which will limit any potential COVID exposure between Dayton and Waitsburg. The schedule will be as follows: Football and MS Volleyball (MS VB starts Tuesday, 9/7) * 3:30 - 5:00 Dayton (Football meets outside the HS Gym) * 5:30 - 7:00 Waitsburg (Meet at HS Locker Room) HS Volleyball *3:30 - 5:00 Waitsburg *5:30 - 7:00 Dayton

Is your Waitsburg kindergarten student ready for a great year? As with years past, kindergarten begins with a gradual start to school. See the first week of kindergarten schedule below, and read more details from Mrs. Trump at
https://www.waitsburgsd.org/article/524430

Registration for K-12 new and returning students will continue this evening 5:00pm-7:00pm. Last day of registration is tomorrow 8:00am-3:00pm. All transportation forms must be turned in with registration. New high school classes are filling up fast!

Reminder: Registration for new and returning students is next Monday-Thursday 8:00 a.m.- 3:00 p.m. with an evening session on Wednesday 5:00 p.m.-7:00 p.m.

Is your 5-year-old ready for Kindergarten Summer Camp? Incoming Waitsburg kindergarten kids are invited to attend this free camp Aug. 16-19 from 9-11 AM each day. Students must be 5 years old AND registered for school as a kindergarten student in Waitsburg.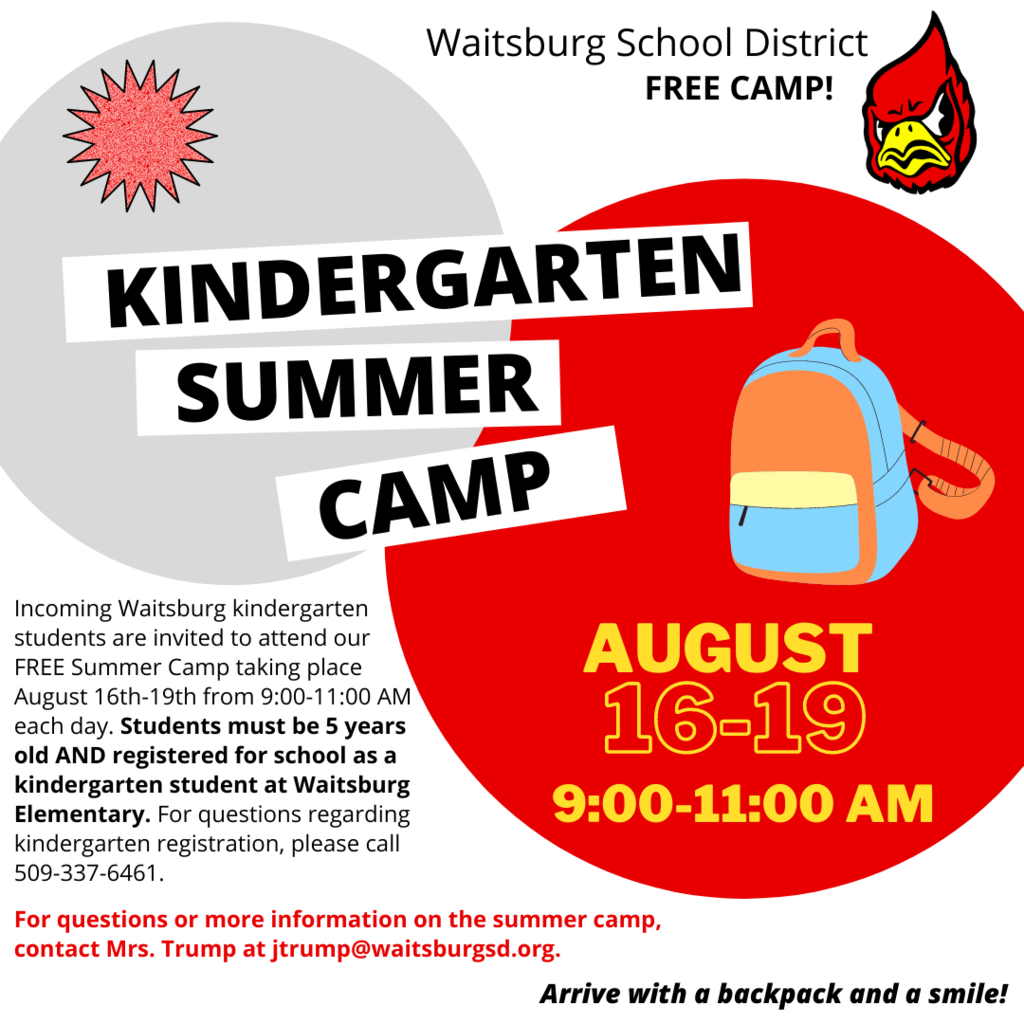 Read our back-to-school update from Superintendent Mark Pickel online at
https://www.waitsburgsd.org/article/501352
. Key points include updates on masking requirements and the new end time for school days in Waitsburg this year. Look for our printed newsletter with more updates arriving your mailboxes in a couple of weeks!

Waitsburg Preschool Summer Camp is taking place August 16th-19th from 9-11 AM. Children ages 3-5 who are registered for the Waitsburg preschool program are invited to attend Preschool Summer Camp. During camp, preschoolers will have an opportunity to meet one another and get familiar with the classroom, library, and lunchroom. Read the flyer below for more details, and contact Eleanora Montgomery at 509-337-6461 ext.1170 with questions.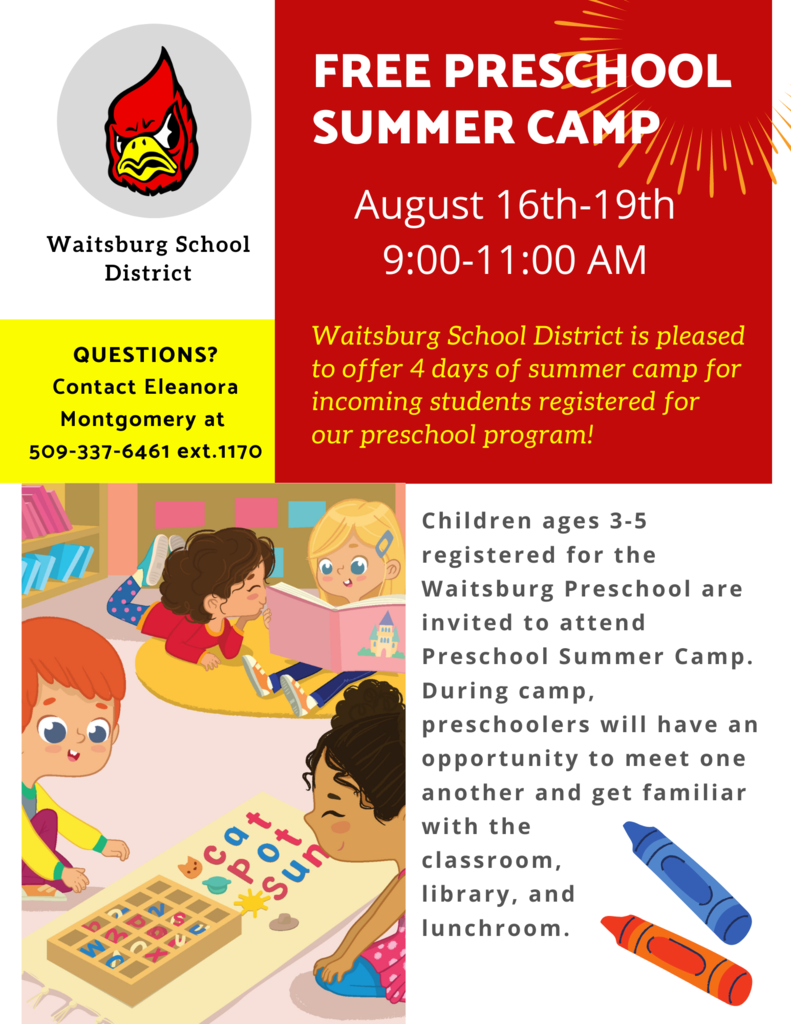 **LOCATION CHANGE FOR SPORTS BANQUET** Due to the excessive heat, we are moving the July 1st Winter Sports Banquet indoors to the Waitsburg Elementary MPR. We will still have a BBQ dinner, and athletes/parents can bring a side dish or dessert to share. We will still start at 6:00 PM.

Change in the Cardinals' Nest Summer Program: Due to the high temperatures this week and the sharp rise in COVID cases, we are postponing the start of the Cardinals' Nest Summer Program to July 12th. The activities that were originally scheduled for this week will be held July 19 - 22 instead. All other activities will proceed as scheduled. Please contact Kathy Carpenter for more info at 509-629-1876.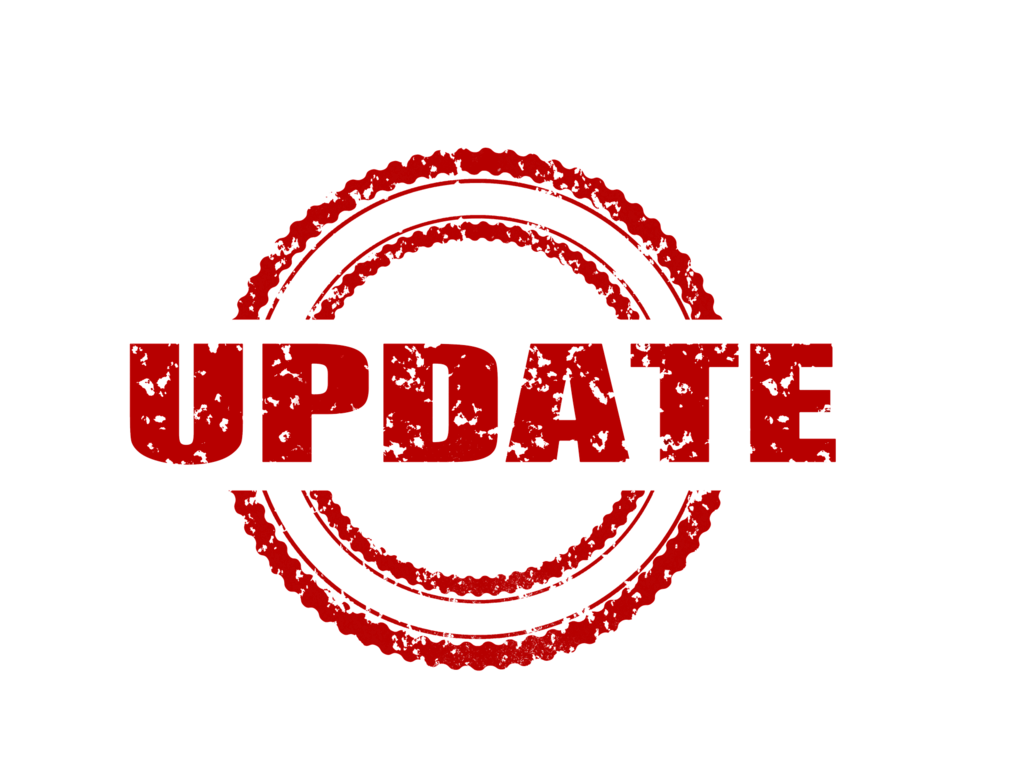 Student athletes and families are invited to our Winter Sports Banquet BBQ, taking place Thursday, July 1st at 6:00 PM at the Waitsburg City Park. Parents - please bring chairs and a side dish (chips/fruit/veggies) to share. Questions: Contact Sam Korslund, Dayton-Waitsburg Athletic Director, at (509) 382-4775 x. 239 or
samk@daytonsd.org
.

Enjoy the final 20-21 edition of our WHS student newsletter, "The Cardinal," online now at
https://bit.ly/3xI9gNz
. Great job to our student journalists!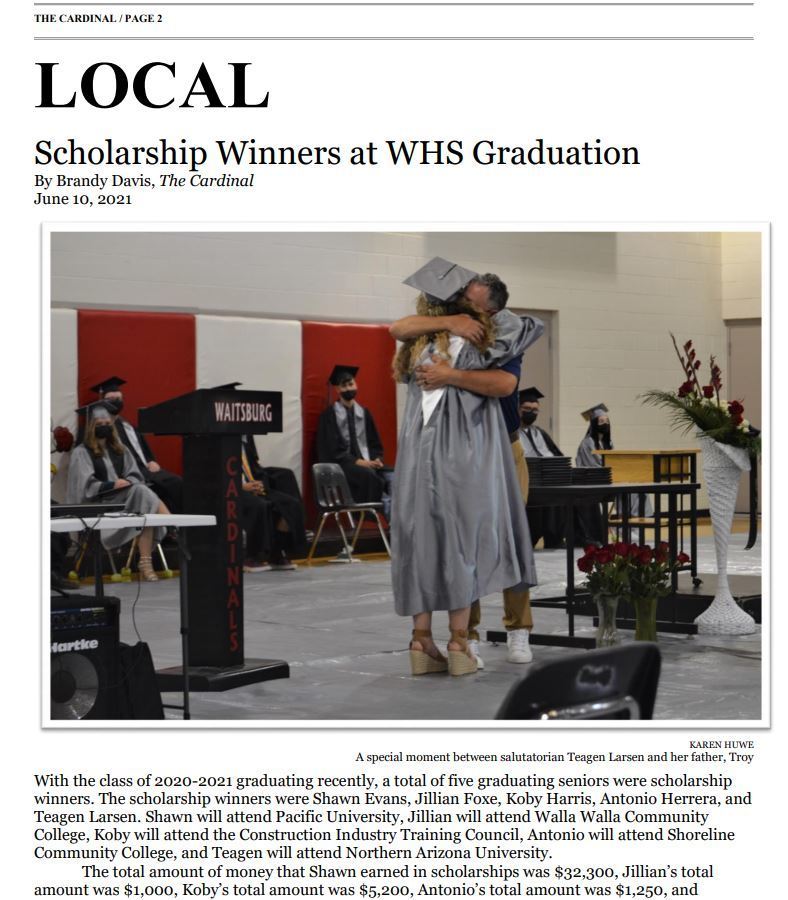 Make sure to turn in your Dayton-Waitsburg Volleyball Camp registration forms by June 23rd! Registration forms can be returned to the Waitsburg High School office until 3:00 PM today (June 22), or at Preston Hall between 8AM-3PM tomorrow (June 23). The Volleyball Camp is open to girls in 5th -12th grade. Read the flyer below for more info.

Congratulations to our Boys Basketball team for qualifying as the #2 seed from the East in the District playoffs! We will be hosting Kittitas in the first round on Wed., June 16 at 6PM. Pending the results of our game and the Cle Elum/Mabton game the same night, we may host another District game on Thur., June 17.

The Cardinals' Nest is pleased to offer 4 weeks of FREE hands-on art and science activities this summer! Register now for the Cardinals' Nest Summer Program, taking place June 28th-August 12th. Sessions are Monday to Thursday, 9:00-10:45 a.m. Read more and find the registration form at
https://www.waitsburgsd.org/article/476818